Competition and medal tests
DanceRite caters for all ages and abilities when it comes to dancing. As a member of ISTD we hold regular medal tests as well as attending medal competitions with our pupils. If you wish to join us, all of these options would be available to you.
Medal test system explained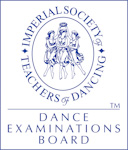 The ISTD medal series is an invaluable tool to both the dance teacher and student. It offers a very structured environment for the student to progress at an appropriate speed depending on their dance ability.
Our absolute belief in the system is that it offers the best dance foundation anyone could ask for and with constant feedback and constructive comments from each exam taken it gives both the student and teacher a safely monitored dance journey.
Examiners often verify points along the way your teacher may have mentioned to you several times before! Read a post from Anne Lingard about medal tests from an examiner's point of view.